The Smart Approach to Cord Storage
Get Organized With an Original Sidewinder Reel
Safely Store

Cords, Cables, Wires, Hoses and More!

Because of their versatility and durability, our reels are used both at home and across a multitude of industries. They are popular in communications, explosives engineering, the marine industry, and in recreational vehicles. Made of high-quality ABS plastic, our reels are ready to take on the toughest jobs.
Cords
Power Cords
Extension Cords
Temporary Lighting Strings
Cables
Audio Cables
Video Cables
Microphone Cables
Wires
Blasting Lead Wires
Telephone Wires
HD Speaker Wires
Hoses
Water Hoses
Air Hoses
High-pressure Hoses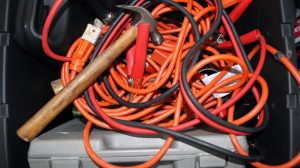 Who Needs a
Cord Reel?
A cord reels is an indispensable tool that has a broad range of applications. Anyone who wants a safer and more organized workspace can benefit. Plus, proper use and storage of hoses and cords can extend their lives considerably. Whether you have an orange extension cord in the corner of your garage or a video cable for an onsite news report, a cord reel is the right tool for the job! We help both individuals and businesses get things wrapped up the right way.
What Our Clients Say…
"
Super product! Durable, well-built and holds an air hose or 100 foot extension cord. Have had one for 15 years and looking for another!
"
MGD – Amazon Customer
Innovative Customer of the Year
After hearing countless stories about the unique practical uses for our cord reels, we choose just one customer's story to share each year. Thank you and congratulations, Mike East of Unilock, for being chosen as our Innovative Customer of the Year. We love how you have utilized the Sidewinder Reel in your U-Level product!
If you have a story to share with us, we'd love to hear it.
THANK YOU!